Elimante the hassle of setting up chargers all over the place on location for photo and video!
Do you want to know how to charge 20+ (camera, drone, lighting, gimbal, phone + tablet) batteries on location with one plug in one case without ever having to uncoil a cord or dealing with chargers all over the place???
The first few months of this year I've been working on how to Automate, Optimize, Eliminate or Outsource many tasks to make my business run much more efficiently for myself. Yet more importantly how to be able to focus more on set being a creative than managing equipment.
One of the biggest things that takes time when working on set or prepping for a project is battery management, we spend most of our time on location or away from a good ole wall outlet. On our prep day in studio we charge all the batteries, then the first thing we do on set / location is setup a battery charging station to make the day flow smoothly. I shouldn't forget to mention how many times in hotel rooms I spend 15-20 minutes setting up a charging station to get everything charged up each night for the next day – the cord wrangling has gotten the best of me!
I thought to myself there has to be a better way to manage charging batteries that I can just show up plug and play on any location, any job and devote more of my time to working with clients.
Here are the pieces to my solution to making a tighter running ship: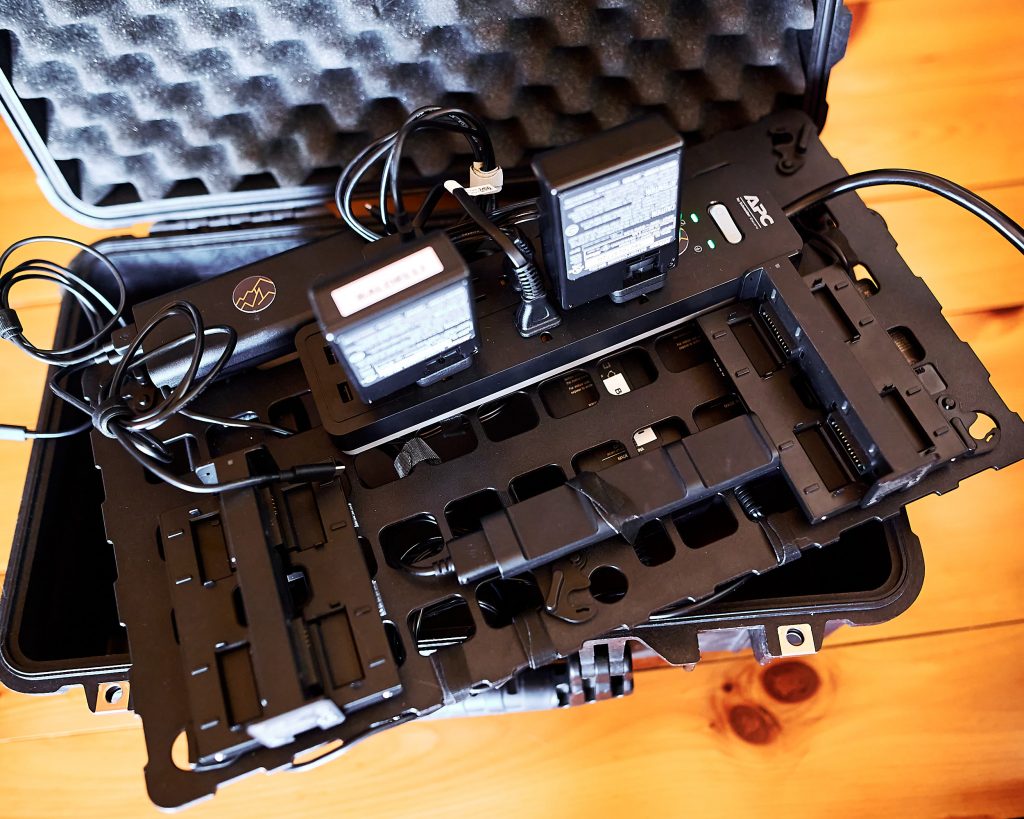 Most creatives will probably have a lot of these items kicking around to build this simple case setup. I ordered a specific Power Strip to fit the Molle Panelling allowing my setup to fit all the charging devices I needed to add to, it in an arrangement I found that will work best.
2 other requirement was a few outlets with extra space – damn you Canon for hogging outlets! Also I wanted a power strip that can charge 2x USBs – that way no USB so chargers would take up a valuable outlet.
Before I started adhering any of the chargers to the Molle Panel I made sure I had everything I wanted to add to the case laid it all out on the counter top at the studio. I spent a few hours going back and forth making sure I could access batteries easily will keeping them stable so they wouldn't fall out of the chargers.
Once I had the arrangement I liked I used the 3M Dual Lock to adhere all of the chargers to the panel and using the Velcro Straps I wrapped the cords to the panel to make the panel easy to manage without any loose cords.
Since I do a lot of drone work these days I added a splitter for 2x 12V Cigarette Lighter Adapter for the DJI Mavic and I can run this in the car while capturing drone footage on location. With 6 DJI Mavic Pro 2 Batteries I can keep the drone running almost all day continuously without any down time, the only crux is keeping the phone / tablet + the DJI remote charged. It's great having this case in the back of the Subaru Outback, there is a outlet and I keep it charging while I'm driving around. The first few jobs I did using the drone the batteries were constantly falling off the chargers and it was a fight. Lastly working out of the hatchback gives me a great workspace to keep everything organized and the drones ready to go!
On the top of the panel I have the APC Power Strip, my two Nikon Battery Chargers (or my wive's 2 Canon Chargers) 2 DJI Mavic Pro 2 Multi Chargers, 1 DJI FPV Multi Charger, DJI Ronin-S USB-C Charger. On the bottom I have 3 Profoto B1/B1X Battery Chargers, a Cigarette Lighter Splitter and all the extra cords wrapped up nice and clean.
All in I spent probably 8-12 hours between designing it (including scrolling through Pinterest) buying what I needed from BH Photo and Amazon. In the long run I expect it to pay off in dividends when prepping for the next job or showing up on set ready to go out of the gate.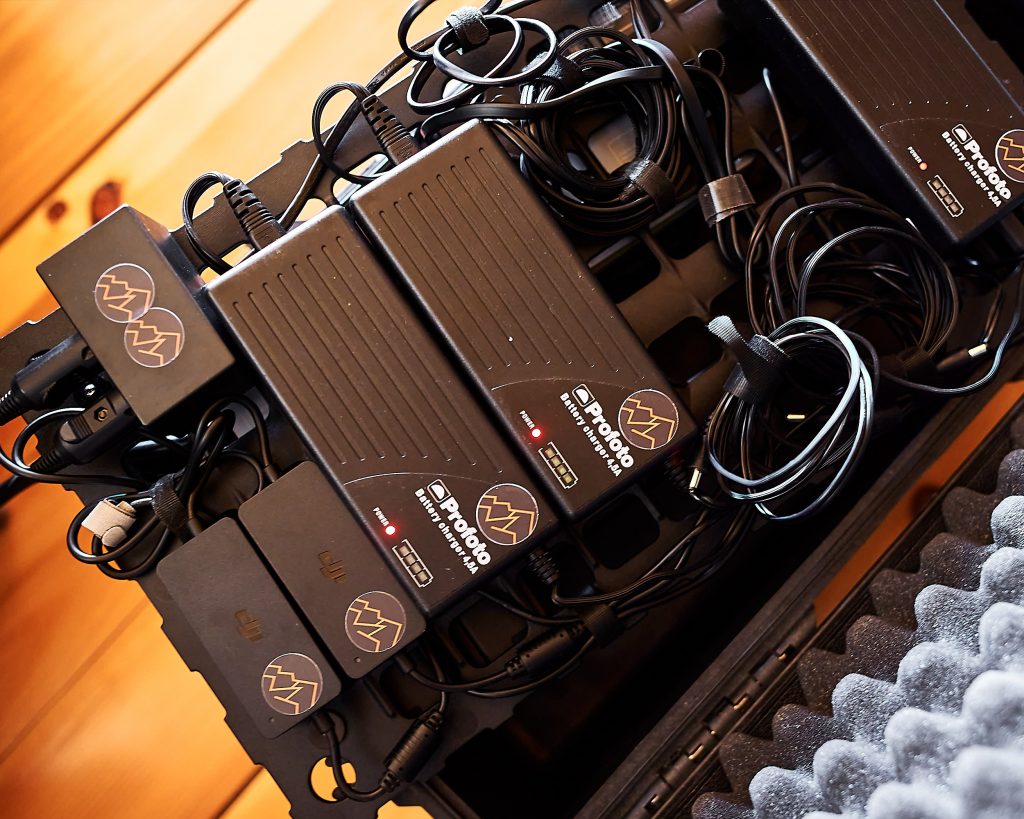 With this setup you can charge all of this below (20 Batteries) without reconfiguring this setup, not a bad way to improve your workflow!
2x Nikon or Canon DSLR Batteries
1x DJI Mavic Pro 2 Remote
8x DJI Mavic Pro 2 Batteries
1x DJI FPV Goggles + Remote
3 DJI FPV Batteries
1x DJI Ronin-S
1x iPhone or iPad Pro
3x Profoto B1/B1X Batteries
If I had to do it again I would try to hunt down a metal Molle Panel as the plastic feels a little weak for my liking but it seems to be holding up great and if it's in this case like it shouldn't be I expect it to last years and save days of battery wrangling!
---
We are not endorsed, sponsored, or and any way affiliated with any of these companies, we are super happy with all of their solid products!